XRP hit 47 cents today friday 21 September as we go to press and has surged as much as a staggering 80 percent this week amid optimism that it will serve as the means of exchange in a new payment service being developed by Ripple Labs Inc.
The company could launch a service that will use the digital currency "in the next month or so," one of Ripple's executives told CNBC on Monday. Called xRapid, the service lets financial companies such as payment providers speed up money transfers into emerging markets using XRP, which is an independent digital asset. A Ripple spokeswoman said Thursday that there isn't an official commercial release timeline at this point.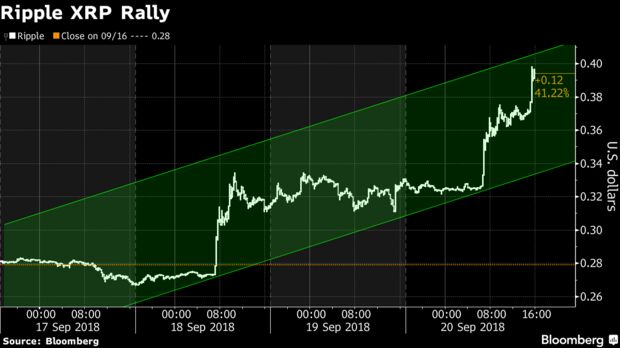 While outperforming bigger rivals such as Bitcoin and Ether this week, XRP is still down about 80 percent amid this year's virtual currency market collapse. It was up 19 percent to about 39 cents as of 4:13 p.m. in New York, according to prices compiled by Bloomberg.
While Ripple's main product available today, called xCurrent, doesn't require the use of XRP, "xRapid, on the other hand, leverages this commutation system to allow institutions to settle inter-bank transactions using the XRP digital asset," Lucas Nuzzi, director of technology at Digital Asset Research, said in an email. "The use of XRP is mandatory with this product."
XRP was released on as a fully operational distributed ledger in June 2012 , with 100 billion XRP created before Ripple the company was formed in September 2012. After Ripple was founded, the creators of XRP, gifted a substantial amount of XRP to the company. Ripple owned about 60 billion XRP, with the majority of it held in escrow, as of July, according to information listed on the company's website.
Ripple Labs is set to hold its Swell conference on Oct. 1-2 in San Francisco. The meeting will include speakers from Banco Santander, Payments Canada and other financial institutions and regulators, as well as former President Bill Clinton. Ripple also added PNC Financial Services Group Inc. to its network of users. Ripple now has more than 100 clients around the world and operates in 40 countries.